History
Our Name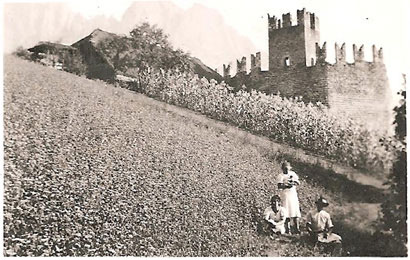 The name 'Pflegerhof' appears for the first time in 1715, but the farm existed already centuries earlier.
Pflegerhof before 1982
The name
Pflegerhof
appears officially in 1715 for the first time. The Mulser family found evidence of that fact in the wooden panelling of the old main room. Before that date this farmer's house must have belonged to the castle Aichach lying nearby.
Farm's view seen from the valley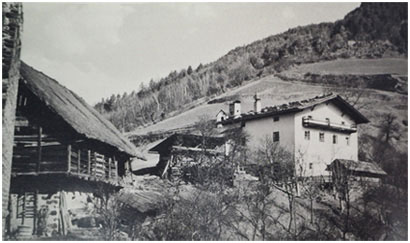 picture from Hugo Atzwanger, 1941
The remains of castle Aichach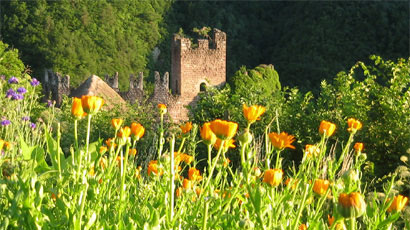 The remains of the castle Aichach next to 'Pflegerhof' probably date back to the 12th century. This castle is believed to be once a guarding point for the Hauenstein Castle above the village of Seis.
The name Aichach could derivate from the German word for oak tree, which prosper all around Pflegerhof. Also, its Italian name 'castel Rovereto' points to this, as the word 'rovere' together with 'quercia' stands for oak tree.
The name Pflegerhof
The farm name
Pfleger
or
Pflegerhof
is found in several villages in South Tyrol, usually close to a castle or the remains of one.
The once small house was probably used by the castle's cortege, for example the judges, maids and servants.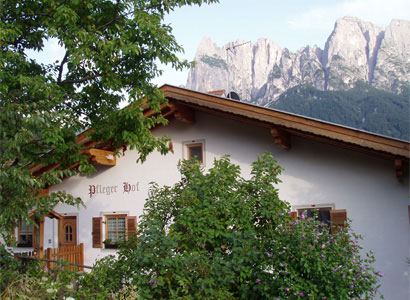 Organic herb growing at Pflegerhof
The farm has been run according to principles of organic farming since 1980 and since 1982 herbs are grown.
What started as a private passion of Martha Mulser, developed into a successful business by itself, got popular locally and abroad and offers employment for several staff. We also offer students the possibility to complete an internship on site and learn about the world of herbs. Our business has been the first of its kind and is now the most varied and biggest herbal farm in the area. What once was a little mountain farm with cows and goats has become with the passing of years a truly wonderful herb paradise.
the history of herb growing at Pflegerhof, explained by Martha Mulser