Contact
Address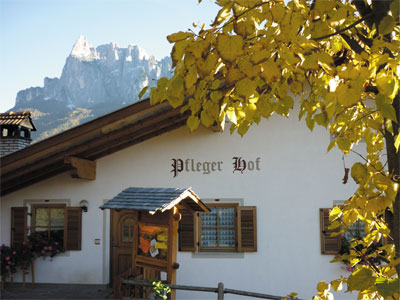 Pflegerhof – Mulser family
Fraktion St. Oswald, 24
39040 Seis (Kastelruth)
Südtirol (BZ)
Italy
Tel. / Fax: +39 0471 706771
E-Mail:
info

∂

pflegerhof.com
Web:
www.pflegerhof.com
VAT.ID.: IT 02949660217
Inspection point: IT BIO 001 BZ Italien Landwirtschaft
controlled firm Nr. Pflegerhof 40001 AB
How to reach us:
The farm 'Pflegerhof' is located in St.Oswald (below the village of Seis am Schlern, municipality of Kastelruth in South Tyrol - Italy) Dolomites on 800 meters above sea level.
More information you can find here:
The location of Pflegerhof
Journey description
- from St. Vigil (golf course) to the Pflegerhof: 3km
- from Seis - St. Oswald - Pflegerhof: ca. 6km
- from Waidbruck / Kastelruth: junction St. Oswald - Pflegerhof: ca. 6km
You can also reach us by bus from Kastelruth or Seis:
fileadmin/user_upload/Silbernagl/pdf/2018/177_dez17.pdf
The bus stop is located between St. Vigil and St. Oswald right next to Pflegerhof.