The history of our herb farm
Martha Mulser explains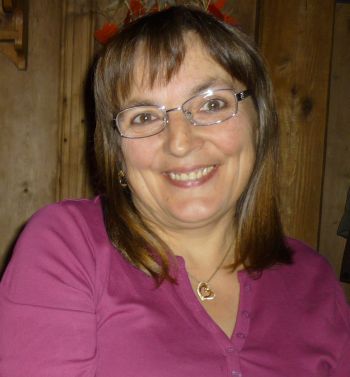 Guests, who spent their vacation in
1979
and
1980
at our farm, gave us the first impulse to try cultivation of herbs. My husband Richard and I did not know anything about it at that time. These guests, the Weiling family, owned a health food store in North Germany and they also explained us about the principles of organic farming. Through them we got to know the Grais family from Morter (Vinschgau), they were the pioneers of organic agriculture in South Tyrol. So this was the moment when we changed our farm to organic principles.
In early
1982
the Grais family informed us, that in the local government's organic laboratory in Leifers a speech was held by a specialist of organic herb farming, Mr. Abraham Heinrich. The speech was about the possibility of herb cultivation in South Tyrol.
In the beginning
At the end of May
1982
we planted our first organic herbs in our about 100m² little tobacco field (underneath the ruin, very steep) and they were: sage, hyssop, thyme, balm, peppermint, roman mint, marigold, marshmallow, narrow-leafy coneflower, rue and valerian. Then, in 1982, the first future herb farmers of South Tyrol made a one day teaching excursion to Poschiavo (Italian Switzerland).
The cultivation of herbs at 'Pflegerhof' was born.
That all sounds nice, but the herbs also had to be marketed and that was not an easy task. Our first buyer was Elisabeth Kröss, who owned a little health food store in Algund. We could only charge a price of 15,000 Italian Liras (about €7,50) per kg dry product and that was not satisfactory, especially for Richard. Working with herbs was very time-consuming, but pleasant. These first years were hard learning years, even though Mr. Abraham helped us with his advice and plants.
Our company's direct marketing has started with the first small organic market in
november 1986
in Algund at the 'Töllerhof' farm.
1987
was founded the alliance of alternative farming (BAA), the first organisation for organic farmers in South Tyrol. We participated from the beginning. The two to three sales events per year of the BAA helped us to sell our produce at adequate prices. So we extended our herb fields every year little by little and also the list of plants we grew got longer.
In
1990
we purchased a drying machine, because the natural drying of the now larger amount of herbs was no longer possible. From around this time Mr. Abraham also started to advice us again, because he had devoted himself for years more to politics than to herbs. The company Gramm Import was the first buyer of larger amounts, which they used for their "South Tyrolean Alp herbal Candy
1992
started the farmer's market in Kastelruth, a welcome sales structure for our in the meantime quite grown herbal cultivation business. Incentivised by the manager of the local tourism association at the time, Mrs. Tiziana Gecchelin Fata, herb excursions were organised to our farm, which also brought customers to us.
In early
1994
I was about to give up herb cultivation, because Richard was so ill and also needed care. However, he encouraged me to continue over and over again, because only with this income I could remain working on the farm. Otherwise, I would have been forced to work somewhere else, like he had to do. On the 4th of October, 1994 Richard passed away and for me and my four children an entire world broke down.
Improving construction works
Because of the strict legal requisitions for organic farming we had to carry out some rebuilding work on house and farm in
1999-2000
. We needed separate rooms for drying, storage and processing of herbs and therefore we extended the house. In the upper part we planned holiday apartments, but nowadays they are used as housing for family members and our employees and trainees.
Since the year
2000
we offer our customers also a vast range of herbal seedlings. My daughter Cornelia is responsible for this part of the business. After completing gardener's education and gaining work experience, she took over seedling growing on our farm. Besides of a variety of more than 500 different seedlings, there is also a choice of succulent plants. Cornelia is not only a gardener, but also a passionate cactus collector.
Even if the herb cultivation needs a lot of work, I still like to go on the field and fill up with new energy.
To regain energy spending time in the garden
).
During the rebuilding works in
2000,
we invested in special drying equipment, so the herbs can be dried in a particularly careful way.
In 2003
I handed over the guidance of farm tours to my daughter Maria, because I rather like to be in the field than among people. Since then, she is responsible for the guided tours of our farm in German, Italian and English language. Today, together with my sister Margareth and some other employees, she accompanies visitors through the fields.
Let's get back to the story. In 2003 we added a bigger greenhouse that is heated. And in the same year, we also bought a cutting machine for herbs, after years of harvesting herbs by hand.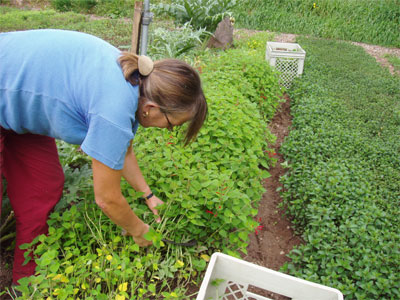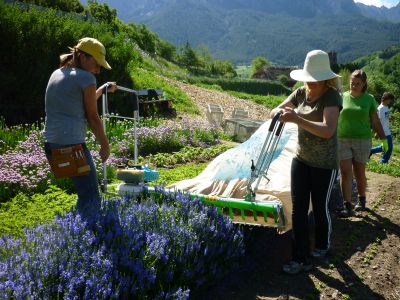 In this way, the harvest is much quicker and conserves the herbs better.
It was also time to invest in a 'Rebel'-machine. Up to then this job was carried out by the grandmother: her task was to separate the leaves from the stem. Now the machine is doing this work.
Report in the magazine "Vital" (year 2005)
Report in the magazine "Essen und Trinken" (year 2006)
Year after year
Year after year our business increased little by little. Often I brought back plants from my trips abroad and tried growing them myself. My daughter Cornelia also shares this same passion.
Finally, in
2008
we organized some of our fields in terraces. Since then work has become even more pleasant for us. Before, 'Pflegerhof' looked like the picture below.
The last terraces were built in
2010
, as you can see on the following pictures.
Construction of our new house for seedlings
Then, in
2009
we added another 'house' for our seedlings:
we built a foil-cold-house and the whole family helped with it.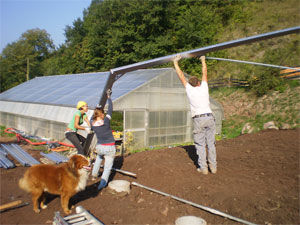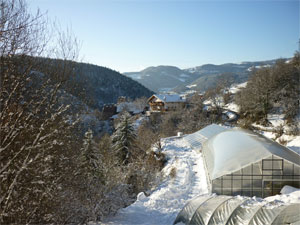 Farm shop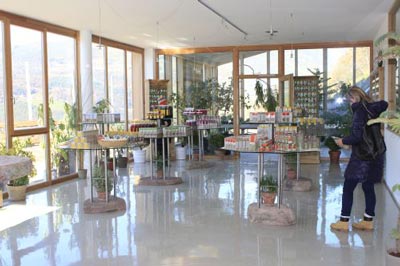 At the beginning of the year
2012
we started building our new construction in which since
November 2012
is situated our farm shop and our office.
Biggest herb cultivation farm
Thanks to Cornelia's specialised knowledge and her commitment, the seedling growing became next to the sale of dried herbs an important source of income for us. In the meantime our range of products became very large and I am very happy about the variety of young plants and over 80 herbs, that we process into herbal tea mixes, spices and spice mixes, herbal pillows, juices and syrups. I am also happy about our area of cultivation, which has grown in the meantime to 2 hectares.
We did everything one step after the other and so today we are the biggest herb cultivation farm in South Tyrol with the biggest variety of products and this is our main source of income.
Martha Mulser
P.S. For all those, who want to get to know 'Pflegerhof' better, I recommend the film 'Kräuterblüte in Südtirol' ('Herbal blossom in South Tyrol') from Mareike Wegener and Hannes Lang, Gartenträume "Kräuterblüte in Südtirol", which was broadcasted on TV in Mai
2011
on Arte.
But obviously it is best, if you come yourself to visit us on our farm 'Pflegerhof'!