A visit of our farm
Farm tour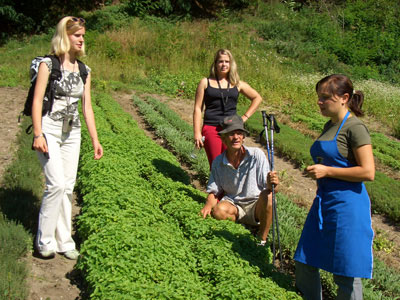 It is your right to know, where those precious products come from. With daily detailed work at 'Pflegerhof' we pursue to offer our herb products to health conscious people at a fair price.
So it is with pleasure that you are invited to visit us on the farm. Our farm store is open daily Monday to Saturday (
opening hours
).
Unfortunately, we cannot offer guided farm tours actually. But you are welcome to visit our farm shop and take a designated tour alone.
The easiest way to the farm
Those who have never been to the Pflegerhof should choose the approach between Seis and Völs (turn off the golf course and continue to St. Vigil / St. Oswald).
(look at the map)
.
To offer our customers an insight into the world of herbs, we regularly offer farm excursions in the summer months.
We will shortly explain the farm's history and then visit a field, where the farming method is explained and also some herbs will be presented. Finally, we will tell you about the processing of our herbs.
The tour takes depending on size of group and the visitor's interest around 30 to 45 minutes. For a group visit, you can also arrange a time with us.
Registration is not required on the following dates:
Please contact us if you wish a guided tour in English: registration requested!
15th April, May, June, from September until 15th October:
every Friday
July and August:
Monday, Wednesday and Friday
| | |
| --- | --- |
| 3:15pm: | Guided tour in German |
| 4pm: | Guided tour in Italian |
| | |
| --- | --- |
| Duration of the tour: | from 30 to 45 minutes |
| Price per person: | Euro 5,00 |
| Children: | under 12 years free. |
Guided Farm Tour: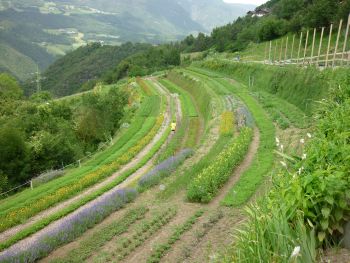 Explanation of the history of the organically run farm.
Visiting walk through the herb fields with explanation of farming method and description of the use of different local and exotic plants.
Afterwards the gentle drying process, the 'rebeln' (pick leaves from stems) and the correct storage method at the farm will be explained.
Finally the visitors can spend time in our farm store and choose from our full product range as well as our more than 500 different plant seedlings.
Groups: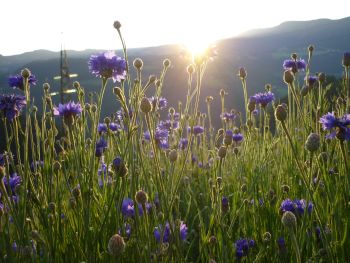 Groups or Groups who wish a guided tour in English: Registration requested:
Registration is required for groups of more than 15 people and for tours outside the given hours!
Price for groups up to 20 people: 40.00 Euros.
Groups of more than 20 people will be guided by two experienced members of the team and will be divided, so two different tours will be held.
Attention: the farm can be reached by bus, but please get shure the bus is not to big becouse the road to Pflegerhof farm is a bit adventurous.
We are looking forward to welcoming you on our farm!
Family Mulser and Team