Our products
Production of the products
All our herbs are grown in a sunny location in the form of
mixed cultivation
. This is the best method to have not only healthy plants but also to obtain the best quality for organically grown herbs. With lots of love, best farmer's skills and commitment, our herbal products are produced from the seed up to the final product directly on our farm (only exceptions are creams and oils).
Our products include:
Seeds of different herbs
(webshop.pflegerhof.com)
and plants of herbs and spices
(only direct selling - farm shop)
Single herbs and flowers
Infusions, tea blends
Zodiac sign tea blends
Spices
Spice blends
Cosmetics and other products to feel good*
Syrups
On our product etiquettes you will find the German and the Italian name only (sometimes with the addition of the latin name). There are
no English names on the etiquette
. You can find the description of each product here on our webside.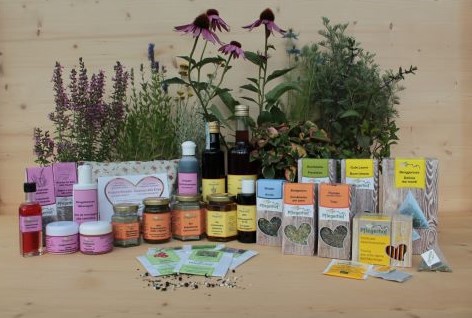 * All our cosmetic products like creams, massage oil and shampoo are produced in an autorized laboratory in Italy.